One of the topics of speculation these days is the sheer number of changes the real estate market in Toronto is undergoing.
It was always a hot topic of discussion, with questions like, "is this a real estate bubble and if so, when is it going to burst?", but now there are additional factors to consider.
One, is the recent hike in mortgage rates the Bank of Canada has introduced, for the first time in 7 years. The other is the - also recent - Ontario Fair Housing Plan, which imposes a hefty additional tax on foreign buyers. This one also had quite a ripple effect. 
Yet are those two enough to explain the sharp decline in real estate activity we'd witnessed in June? This cooling down of one of the busiest real estate markets in the world needs a thorough analysis before a conclusion is drawn.
June saw a total of 7,974 home sales in the Greater Toronto Area, as was recorded by the TREB (Toronto Real Estate Board). This may look like a lot, until we compare it to the same month in 2016. Then we realize it is, in fact, a whopping 37.3% lower. Quite the difference.
The TREB suggests, however, that according to data collected by it between April 24th and May 26th 2017, foreign homebuyers comprised no more than 4.7% of the total transactions.
Not a number that would make a huge difference.
The organization points to a possible other reason, which is that buyers displayed hesitation and decided to wait until the results of this recent legislation will pan out. That, and sellers, threatened by the potential effect on prices, rushed to list their homes. This created a new balance where supply exceeded demand (for the first time in a long time), which is what created the cool-down effect. Still related to the tax, but not quite as directly.
Here we feel obligated to add, as an aside note, that the number of foreign investors assessed by the TREB may be underestimated by a long shot. The details of that particular analysis are relayed in detail in another article we'd recently published. Our job is to assess all opinions, but in this case we'd suggest to take it with a grain of salt.
Having said that, let's continue.
So the number of listings, urged by the Fair Housing Plan, jumped by 15.9% compared to the same month one year prior, which naturally resulted in price growth moderation.
To put numbers to the words, the average annual gains for a piece of real estate in Toronto were in double digits before that. Until June, when the recorded price growth was at a modest 6.3%.
This is demonstrated well enough in this chart provided by TREB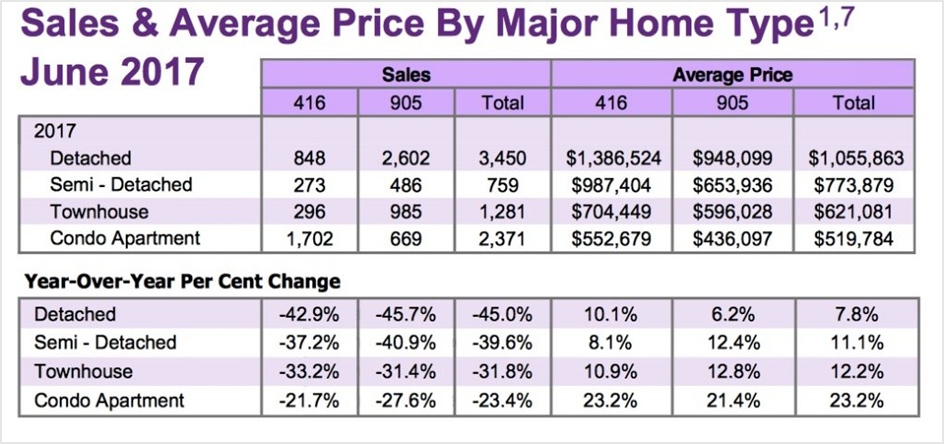 Their conclusion is that a better supplied market with cautious demand naturally comes to a slow-down.
Regardless of the reasons behind it, this tendency is curious at the very least, and we are glad to have given our readers another point of view that tries to explain it.
Stay with us for more interesting reading on the topic, or contact us directly for practical advice on selling or buying real estate in Toronto and the GTA.